collections and obsessions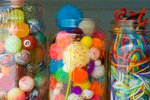 What do you collect? Why do you do it? What have you collected in the past, and what did you do with it? Share your collections and obessions with LAB for Project 7. For more details, check out the Projects section.
We'll be showcasing a collection of collections in the next two issues of LAB. Submit by Nov 1st, 2007.
---