Interactions of Color as an app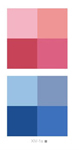 Josef Albers's The Interaction of Color is now available as an app.
Yale University Press has released the work on the 50th anniversary of publication. Users can move and manipulate over 125 color plates in 60 interactive studies.
Josef Albers was a printmaker, photographer, typographer, and poet. He's best known for his abstract paintings and color theory.
---