Fisk's 1944 map of Mississippi River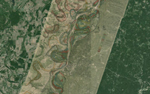 Nelson Minar has cobbled together a viewer of Harold Fisk's map of the various courses the Mississippi River layered over Google's satellite imagery, with a slider to blend the two.
You can find a DIY data set for Nelson Minar's All The Rivers map on Github.
More detailed renderings of All The Rivers here on Flickr.
---