Gorgeous motion work by Davy Evans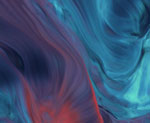 Gorgeous work by Davy Evans in this short video (9 Ambient).
From Davy Evans's website:
"Davy Evans is an award winning multidisciplinary artist and designer based in Brighton. With a background in graphic design, Evans fuses analogue and digital techniques to create ethereal abstract imagery. He often uses experimental photographic methods, combined with light and liquid to replicate colour, form, and distortions, inspired by natural phenomena."
Much more from Davy Evans over on Vimeo.
---