Jonathan Niclaus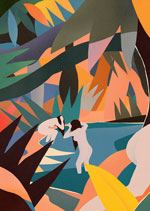 Illustration work by Jonathan Niclaus.
Niclaus discusses his technique in this It's Nice That feature:
"I often start with pencil sketches so that my work is infused with a traditional aesthetic. I have moved away from perfect vector shapes, imperfect forms and 'mistakes', together with different textures, to help me conjure an artisanal feel in the final piece."
And here's Niclaus on the sources he draws from:
""I spent hours flipping through Polish posters from the 60s or trawling through the work of Swiss graphic artists. Everything is a potential source – old Playboy ads, vinyl covers and movie posters can all bring the right vibes."
Jonathan on Instagram.
---