Sculptures by Jaime Pitarch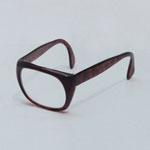 Whimsical sculptures by Jaime Pitarch.
From Jaime's bio on Spencer Brownstone Gallery's site:
"Jaime Pitarch creates sculptures, drawings, videos and installations often using humble everyday objects such as a guitar, chair, or household and consumer products. He employs inventive strategies of displacement, re-contextualization and visual punning to peel away at their routine uses and meanings to alter our relationship with such utilitarian items."
More work from Jaime on Artsy.
---