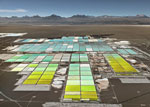 The National Gallery of Canada and the art gallery of ontario will co-present Anthropocene, photo work by Edward Burtynsky. These new contemporary art exhibitions will tell the story of the human impact on the earth.
From the DesignBoom article:
"The exhibitions are a component of the multi-disciplinary Anthropocene Project from the collective of photographer Edward Burtynsky and filmmakers Jennifer Baichwal and Nicholas de Pencier of Mercury Films. Anthropocene will run at the National Gallery of Canada in ottawa and the Art Gallery of Ontario in Toronto simultaneously from 28 September 2018 to 24 February 2019."
---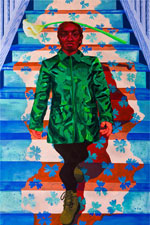 A sneak preview of one of LAB 18's features. Vibrant, colorful work from Lynne Holland Weiss.
You can find a fantastic interview with Lynne over on Juxtapoz. From this interview:
My paintings are narrative in nature, but rather then explicitly tell or present a story or a scenario, I very intentionally leave the narrative and scenes incredibly open-ended. The who, when, where is completely for the viewer to decide, but the ability to provoke the sensitive body and an empathetic response is what I am after. That being said, some common threads in my work are feelings such as desire, longing, waiting, pondering mysteries and the unknown, physicality and human touch, time lapsing and movement, and the individual versus the collective. In general, I'd say the figures I paint often are deep in thought themselves, and in this way, act as mirror for the viewers own contemplation.
---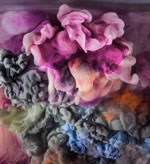 Kim Keever will be opening a new solo show of photos at Waterhouse & Dodd (in NYC) this summer.
LAB featured Keever back in issue 12.
Here's an excerpt from the recent Juxtapoz article on Kim Keever:
"There's something about repetition that when you go through, the 10,000 hours, you go through certain processes to achieve what you are trying to achieve," Keever told us a few years ago. "If you are sincere, you tend to get better and better. Eventually you become the best in the world at what you are doing because you are the only one who has gone so far out on a limb."
---